We are thought leaders, strategists, creative thinkers, writers and project managers. We are doers. We bring strategy to life through creative and strategic communication.
Together, our team has more than 30 years of strategic communication experience that began in large consulting firms. Our passion for client service led us to break free, so we could focus on what we love and what matters the most – achieving results for our clients.
We take time to get to know our clients and what uniquely motivates their employees. We ask tough questions and we listen. We don't believe in off-the-shelf solutions. Together, we will develop and execute a customized strategy that will generate results.
We work as an extension of your team – partnering with you every step of the way.
We are a federally-certified Woman Owned Small Business (WOSB), certified by the state of Maryland
as a Disadvantaged Business Enterprise (DBE) and a Minority Business Enterprise (MBE),
and certified by the state of Virginia as a Small, Women-owned, and Minority-owned Business (SWaM).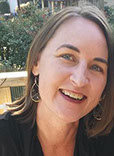 Founder & President
Melissa Bruns Burke
A fierce partner to her clients, Melissa is known for her ability to solve not only communication challenges, but some of the toughest business challenges. Her commitment to her clients is unmatched as is her relentless focus on results.
Melissa has an innate ability to assess an organization's needs and develop targeted communication strategies that result in action. One of the things Melissa loves most though is rolling up her sleeves to effectively tell her client's story.
When she's not working, you can catch her exploring new restaurants, spending time with her family or swimming in the Chesapeake Bay – even in the winter she's been known to take a plunge.
Communication Strategist
Kara Amore
Bring it on – that's her mantra. Whether it's decoding technical information into compelling content for employees, developing creative concepts or balancing client deadlines – there's no challenge Kara backs down from.
She is the go-to-girl for complex annual enrollment campaigns – flawlessly executing for her clients year after year. A rare breed that loves creative just as much as the technical details that drive our business. Her clients love her for her attention to detail and ability to keep the team focused on the end goal.
Outside of work, Kara loves a good challenge, too. Whether it's training for a race, a cook-off with her husband or playing hide-and-go-seek with her two young children – it's game on!
Ricky3Sticks
Richard Bruns III
​Raised by a sales executive, Richard Bruns III (with a nickname of Ricky3Sticks), our founder, Melissa Bruns Burke, learned early in life the importance of client satisfaction. At the payphone on family vacations; taking the time to know important details about his client's lives, passions and expectations; and building long-term relationships with clients​​​ and vendor partners alike, Ricky3Sticks taught Melissa what it means to be successful – in business and in life. In later years, as he struggled with changes in his industry, he didn't feel like he could leave the corporate world and still find success but he taught his daughter that she could.
ricky3sticks, LLC | Silver Spring, MD | 301.587.7507